A Message From Our Headteacher
At beginning of this academic year and term, we embarked on our 'Routine Reset', where we, as a school community moved forward together by re-establishing and reinforcing the procedures and protocols which support our continual drive to open minds and widen horizons.
Reading reclaimed its prominence in tutor time. Later in September our Duke of Edinburgh Award scheme started again and our first Curriculum Day in over 18 months carried on where we left off. We were able to welcome many Year 6 students and their parents/carers to our Open Evening, followed by many morning tours for small groups of students and their parents. Students and staff were clearly pleased with the opportunity to welcome these potential new members to our school community, showcasing what makes us all proud to be part of it. Parents Evenings, Tutor Evenings and Information Evenings were all well-attended, with all those coming along supporting our endeavours to keep our school community safe by following our Covid-19 prevention procedures.
Our Science, Technology, Engineering, Art and Mathematics (STEAM) programme started again, with our Junior STEAM club welcoming students from our local primary school, engaging them with spectacular science, showcased by our science specialists and ably assisted by student science ambassadors. We took advantaged of opportunities to visit places like RAF Cosford and ended the first half term with a celebration of all things STEAM at our STEAM Celebration Evening, with students receiving awards from one of our many Inspirational Sparks, ex-student Becky Warren.
We were able to hold Careers Fair this year, following on from the first one we ever held back in November 2019. Employers, education institutions and training providers from local and national companies were in attendance and keen to meet our students. The feedback we received from all the organisations about our students was very complimentary.
As we look forward to our Christmas break and spending time with our family and friends, I hope everyone enjoys equal amounts fun-filled festivities to compliment the rest and relaxation our students and staff deserve.
On behalf of students, staff and governors, I hope you all have a very Merry Christmas and a Happy New Year.
Best wishes,
Mr P J Lowe-Werrell
Headteacher
Congratulations to Lulu and Olivia in year 8 who recently starred in the film advertising the magic of Shrewsbury at Christmas time. Both students performed magnificently and the film produced by 'My Painted Life Productions' is a triumph at showcasing what Shrewsbury has to offer this Christmas!
"The first filming day was the most exciting, we were filming in the 'Write Here' shop just down the street from the square. That was my first scene in the film. I made some really good friends behind the scenes in particular Patrick the drummer boy who was a lot of fun! I also met some one who is now incredibly special to me, Billy the Bear, as I named him. When the advert premiered, I was really impressed, I never thought it would be that amazing! This experience has taught me lots, confidence being the main one! I never would have thought I could do something like this, but with kind words from special friends I did it, and we shared the most beautiful moment and memories together that we will never forget. As a gift at the end of filming I was given Billy the Bear to keep, I never thought I would see him again, but I suppose you can find magic in the most unusual ways."
Lulu
"In the Christmas film, I played the girl who moves to Shrewsbury and ends up missing her old life and friends. When exploring the house, she goes into the attic and finds a drummer boy who comes to life and takes her on a magical adventure around Shrewsbury. Altogether, I ended up doing five days of filming in various places and had loads of fun in-between the scenes as well as when filming them. To be able to do this, I had to audition first and I went with Lulu (the friend of the main character). I was very surprised to hear that I had gotten the main part and I was even more excited when I heard that I would be doing this with Lulu. Before doing this, I had never done anything to do with acting and I was afraid to try, but now I feel like a completely different person. It was amazing working with Lulu, Patrick (the drummer boy) and Aaron Child (the creator and photographer) and it was an experience that I thought I would never have!"
Olivia
STEAM Awards 2021
On Thursday 21st October 90 students were invited to attend the Science, Technology, Engineering, Art and Mathematics awards, or as we refer to them 'The STEAM awards'. The awards celebrate both the highest achieving students and those with the best attitude to learning in all of the STEAM subjects, alongside students who have embraced a range of STEAM activities throughout the year.
The successes of students past, many of whom were themselves participants of previous celebration events, were also shared with an update of their next step on their STEAM journey. Mary Webb students have gone on to start a wide range of courses, including; Mechanical Engineering, Medicine, Crime scene science and policing, Economics, Mental health nursing and Philosophy and Theology.
The guest speaker for the evening was ex-student Rebecca Warren, who attended the school from 1994-99. Becky took time out from her hectic schedule at the forefront of the COVID-19 vaccination programme to congratulate our students and hand them their certificate and limited-edition STEAM badge. At the midpoint of the ceremony she also gave a brief overview of her career so far, from qualifying as a nurse in 2004 to joining the army and serving in Afghanistan, before returning to take on the role of Ward Manager. She spoke with passion about all of her roles and highlighted the importance of team work and embracing opportunities, with her final words of advice being. 'Don't be scared of failure. That's how you learn and better yourself and, choose a job that you enjoy and you never do a days work'. We hope her words will inspire others to follow in her footsteps and wait with anticipation to see which of the current students will return the favour by coming back as guest speaker in future years!
Current students who also bravely took to the stage were:
Abbie O'Shea and Livi Kili, described their experiences of the Y8 Cosford trip as well as giving an overview of the activities carried out at glider club, and how they were preparing to take part in a glider competition (read about this in a separate article).
Izzy Cross, Jake Williams and Cerys Owen spoke of their experiences at a Medicine experience day, where they learnt about the 4 pillars of medical ethics before carrying out some diagnostic activities and learning about triage.
Cerys Owen also bravely took to the stage for a second time to describe her experience taking part in the United Kingdom mathematics trust challenge.
As always, the final award of the evening was to announce the STEAM Student of the Year and, as always, there were many contenders. The 2021 award was bestowed upon Emily Cawthorne, not just in recognition of the high standards she achieved in maths, triple science and design technology, but also for her contributions helping to engage and inspire Year 5 and 6 students by helping out with the STEAM roadshow and volunteering at junior STEAM club. Our congratulations go to her and all of the other students who received awards on this special occasion.
 By Mrs Jones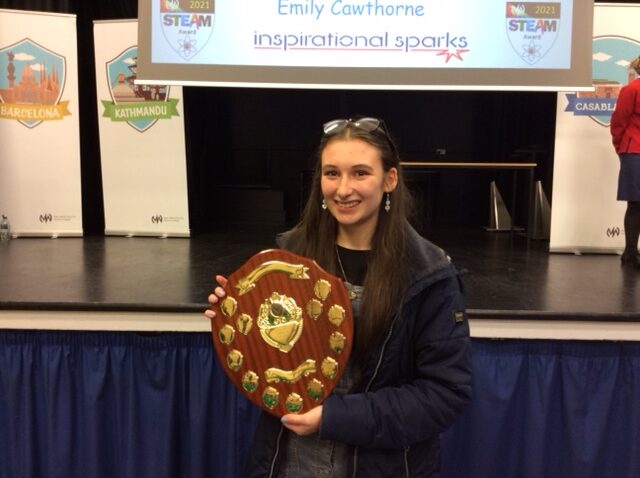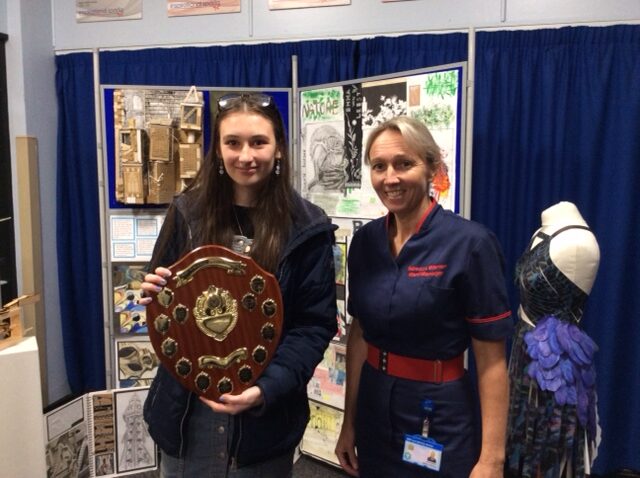 Cosford KS3 Glider Competition
After school on a Tuesday we attended

Glider

club, run by Mr Walker, Mrs Jones and Mr Knight (who was a STEAM ambassador and expert in model plane making.) There were only 10 places on the club, so we had to write a brief note to say why we should be chosen. 
Using kits, we all built our own

glider

, which we flew and evaluated in the sports hall. We also had a paper plane competition, which Mr Knight won by a long way; his plane went the whole length of the sports hall! After completing and flying the planes Mrs Jones introduced the Glide competition at Cosford and selected 5 students to compete. At school we researched, designed and built a variety of different planes in preparation for the big day.
On Wednesday the 10th of November we departed to Cosford to take part in the regional competition. In the morning we spent time designing and constructing our plane ready for the launch. After lunch we had the opportunity to test our planes using the launcher that would be used in the competition. We carried out a few adjustments to improve the flight and design. In the end we came 3rd out of 15 groups from all over the West Midlands.
By the Knight gliderz (Abbie O'Shea, Livi Kiki, Holly Maddox, George Rowe, Haydn Gawthorne)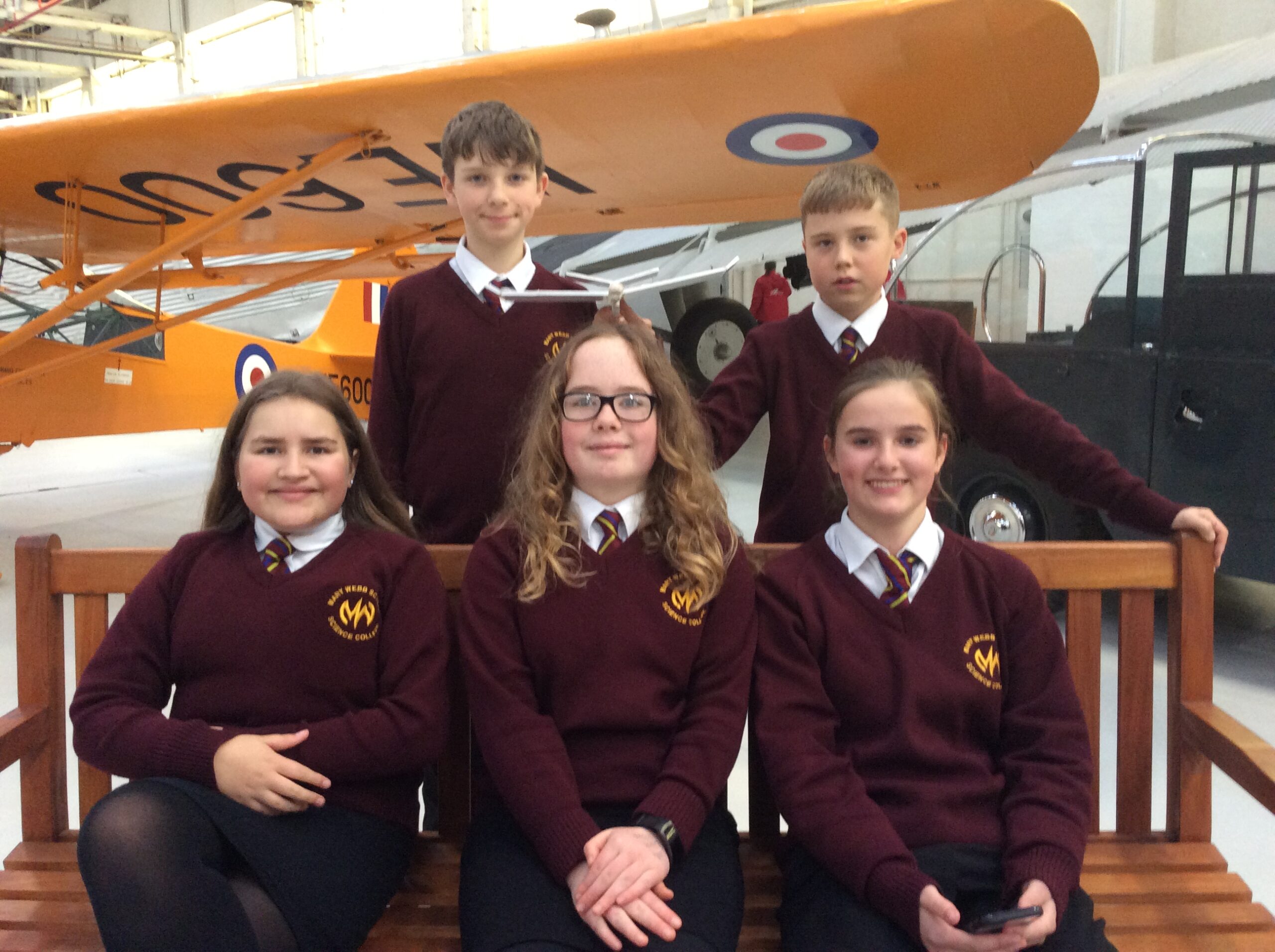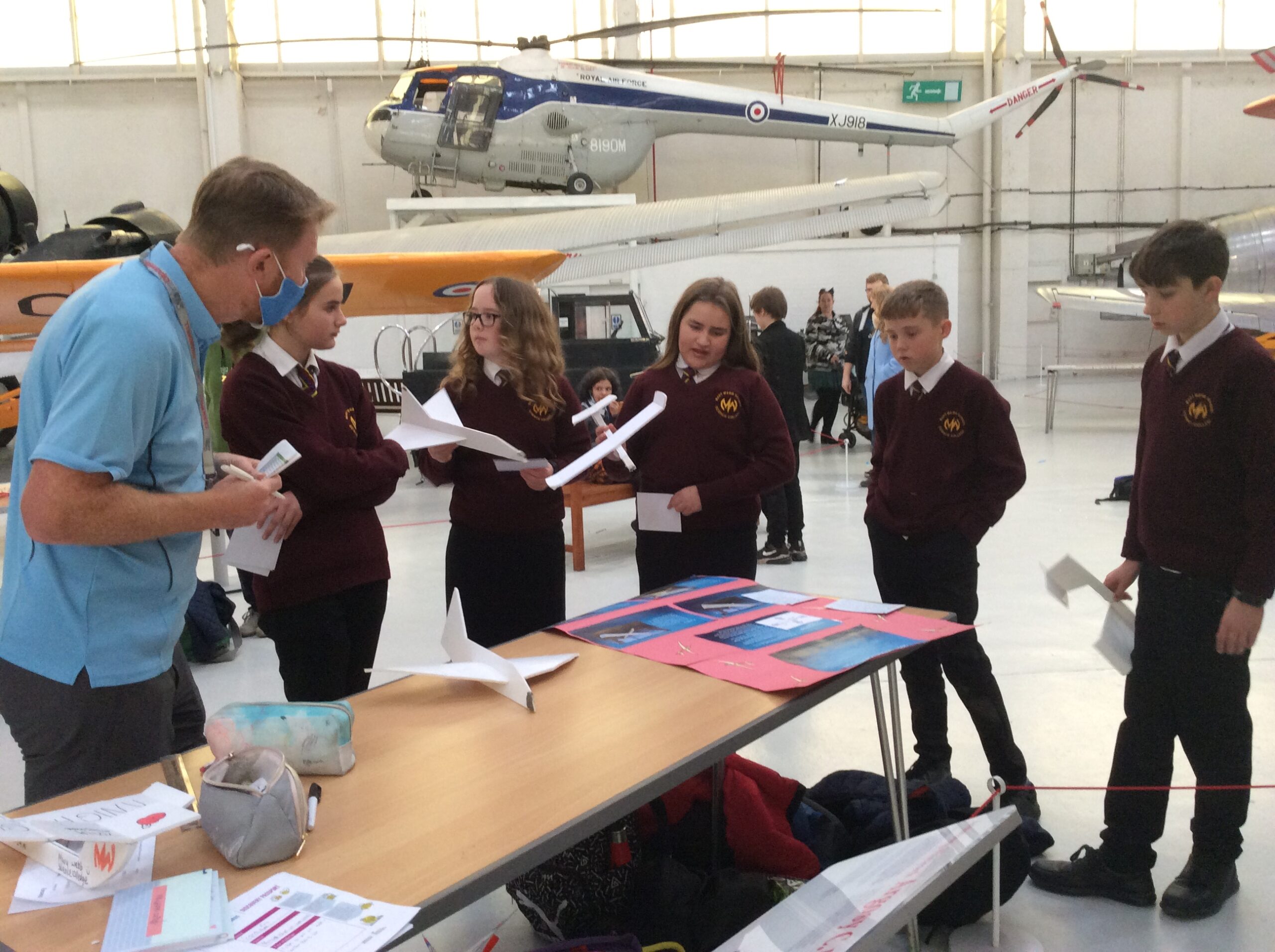 Enrichment & Enhancement Programme
Congratulations to our 100% Attendance Students!
Year 7
| | |
| --- | --- |
|  Paige Ainsworth | 7C |
|  Harry Barnes | 7B |
|  Eliza Birch | 7S |
|  Haydn Cartwright | 7C |
|  Joshua Cartwright | 7C |
|  Darcey Davies | 7K |
|  Yvie Douglas | 7B |
|  Alice Feltham | 7S |
|  Jacob Goncerzewicz | 7C |
|  Jayden Harris | 7K |
|  Amy Jarrett | 7C |
|  Lloyd Jones | 7S |
|  Bailey Lowe | 7K |
|  Maisie McAleavy | 7S |
|  Ruby Metliss | 7S |
|  Reece Morgan | 7B |
|  Matthew Morris | 7K |
|  Jamie Roberts | 7C |
|  Zane Saveker | 7S |
Year 8
| | |
| --- | --- |
|  Bella Bacon | 8S |
|  Connor Beamond | 8K2 |
|  Isabelle Clark | 8K2 |
|  Bethan Evans | 8B |
|  Dylan Freestone | 8S2 |
|  Hayden Gawthorne | 8C |
|  Gethin Korsak | 8B2 |
|  Harry Lee | 8C2 |
|  Catherine May | 8S2 |
|  Sam McFall | 8K |
|  Harry Nightingale | 8K2 |
|  Abbie O'Shea | 8B2 |
|  Reuben Owen | 8B |
|  Harley Rawlings-Jones | 8K2 |
|  Samuel Sullivan | 8S2 |
|  Beatrix Towers | 8K2 |
Year 9
| | |
| --- | --- |
|  Matthew Beecroft | 9C |
|  Louise Bell | 9S |
|  Jessica Bevan | 9K |
|  Jessica Cole | 9S |
|  Emily Culbert | 9K |
|  Sam Evans | 9K |
|  Luke France | 9B |
|  Charlie Lewis-Lakelin | 9C |
|  Frank Marston | 9C |
|  Alexander Matthews | 9C |
|  Lucas McAleavy | 9B |
|  Kamisha-Lea McKenzie | 9K |
|  Zachary Norlander | 9K |
|  Emily Owen | 9S |
|  Conrad Paine | 9S |
|  Noah Payne | 9B |
Year 10
| | |
| --- | --- |
|  Liam Bennett | 10B |
|  Joshua Cawthorne | 10K |
|  Owen Dawson | 10S |
|  Jac Dormer | 10C |
|  Hugo Elves | 10B |
|  Luke Griffith | 10C |
|  Dylan Jones | 10B |
|  Frank Jones | 10B |
|  Jasmine Lewis | 10K |
|  Samuel Lewis | 10B |
|  Oliver Medcalf | 10K |
|  Thomas Monaghan | 10K |
|  Tilly Owen | 10C |
|  Elly Straub | 10S |
|  Ella Thomas | (10B) |
Year 11
| | |
| --- | --- |
|  Matthew Churms | 11C |
|  Isobel Cross | 11S |
|  Jess Evans | 11S |
|  Millie Jones | 11B |
|  Nuala McGoldrick | 11K |
|  Daniel Morrell | 11C |
|  Sarah Nightingale | 11C |
|  James Payne | 11K |
|  Max Rowe | 11C |
|  Brandon Sherwood | 11C |
|  Harvey Simpson | 11C |
|  Callum Slater | 11B |
|  Gilbert Southworth White | 11S |
Merry Christmas and Happy New Year from everyone at Mary Webb School.